> Home > Where to stay > Rooms
L'AFFITTACAMERE DEL CORSO
Pienza
ROOMS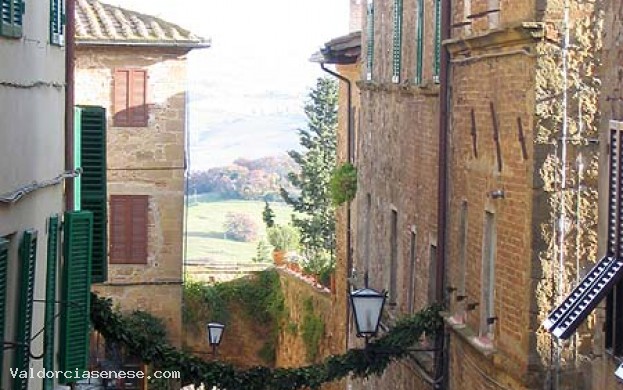 * Required field
DO YOU WANT MORE INFORMATION?

Call our Call Center at
Tel. 0578 748550 - Fax 0578 872619

Website
www.santafrancesca.it
SERVICES
ACCETTAZIONE ANIMALI DOMESTICI
RISCALDAMENTO INVERNALE
STRUCTURE DESCRIPTION

Welcome to Pienza!
This small Tuscan town is a rare example of Renaissance town planning. It was conceived by Pope Pio II in 1400. Our Affittacamere Il Corso (rooms for rent) is situated in one of the many historical buildings on the main street, in the heart of the ancient village near the Dome.
Our "affittacamere" is very peaceful and it is made of three double rooms only (each of them with two twin beds and a double one and private bathroom). Moreover, on request, we also offer a small kitchen to make you feel at home.
Of the ancient building the wooden-decorated ceilings overlooking the frescos representing the ancient arts and craft emblems, the door frames made of volcanic stone and the cotto-floors are perfectly preserved. Our three rooms are mostly furnished with antique furniture.
Franco and I will be glad to have you here in this small and cosy house-room.
ARCHITECTURE, ART

NEARBY
DINING & ENTERTAINMENT

NEARBY