> Home > Where to stay > Rooms
LA SARACINA
Pienza
ROOMS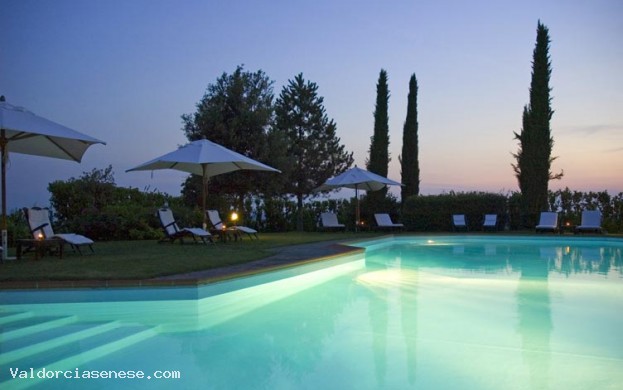 * Required field
DO YOU WANT MORE INFORMATION?

Call our Call Center at
Tel. 0578 748022 - Fax 0578 748018

Website
www.lasaracina.it
SERVICES
ACCESSO A INTERNET
TV SATELLITARE
RISCALDAMENTO INVERNALE
SOMMINISTRAZIONE BEVANDE O MINIBAR
STRUCTURE DESCRIPTION

"Born from a thought of love and a dream of beauty".
Hidden in a magical scenery, with the ever-changing charms of the ...hills and old villages rich in art, history and culture, La Saracina is an elegant country home in the heart of Tuscany.
Beautifully positioned on a hill at the top of a spectacular avenue of cypresses, it is perfect for visiting the Val d'Orcia and its ancient towns. Among these are Pienza, little "gioiello" of the Reinassance, Montepulciano and Montalcino with their production of great Tuscan wines and superb olive oils. Further afield are Siena, Arezzo and Perugia also the land of Chianti Classico and the evocative scenery of the Crete Senesi landscape.The six rooms, all beautifully appointed and named after local vineyards, open on to the mediterranean garden of lavender and rosemary. The fabrics and their colours have been chosen with love as have the local handicrafts and antiques.
The open beams, the vaulted ceilings and the tiled floors pleasantly complement the pastel colours of the walls.
The suites have been converted from the old stables and are further enhanced by the presence of open fireplaces and luxury bathrooms, a jacuzzi bath, a marble-tiled shower with soft fluffy coloured towels. Armchairs and warm rugs complete the picture of a comfortable living area.
ARCHITECTURE, ART

NEARBY
DINING & ENTERTAINMENT

NEARBY