> Home > Where to stay > Hotels
LE TERME
San Quirico d'Orcia
HOTELS 3 STARS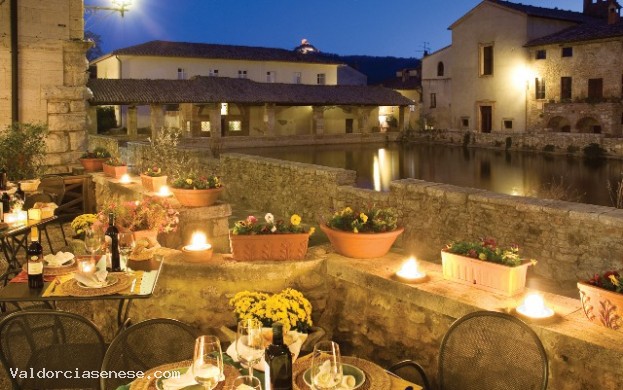 * Required field
DO YOU WANT MORE INFORMATION?

Call our Call Center at
Tel. +39 0577 887150 - Fax +39 0577 887497

Website
www.albergoleterme.it
SERVICES
ACCETTAZIONE ANIMALI DOMESTICI
LAVATURA E STIRATURA BIANCHERIA
RISTORANTE
COLAZIONE IN CAMERA
PISCINA COPERTA
CASSAFORTE O CASSETTE DI SICUREZZA
ACCESSO A INTERNET
SERVIZIO FAX
ARIA CONDIZIONATA
TV SATELLITARE
RISCALDAMENTO INVERNALE
FRIGOBAR
ASCIUGA CAPELLI
OSTERIA E/O BAR
PARCO O GIARDINO
SAUNA
PARCHEGGIO RISERVATO
COLLEGAMENTO INTERNET WIFI
STRUCTURE DESCRIPTION

Many years ago the sincere souls of our grandparents were taken by the magic of the small village of Bagno Vignoni where they chose to live in the main palace overlooking the ancient spring which has been a hotel since those times. It was the beginning of an exciting adventure in which every member of the family has engaged in with good will and devotion and has turned into the knowledge that today allows the Banchetti Family to entertain you with the same familiarity but the expertise of nowadays.
Since 1977 we have been glad to host you with great passion and take you by the hand to discover the enchanting Val d'Orcia where every day we share with all of you the love for our land, the goodness of its flavours and the extraordinary beauty of its natural treasures.
In our hotel you will breathe a combination of informality, emotion and tradition taking you along a trail which will put you in touch with all the shades of our land and culture.
ARCHITECTURE, ART

NEARBY
DINING & ENTERTAINMENT

NEARBY