> Home > Where to stay > Rooms
MAURO E CHIARA
Pienza
ROOMS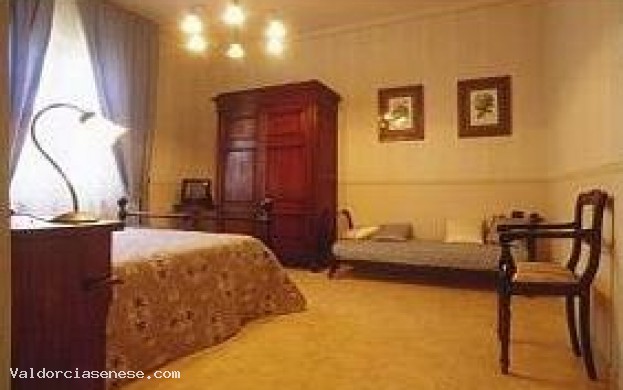 SERVICES
RISCALDAMENTO INVERNALE
SALA RITROVO E/O TV
STRUCTURE DESCRIPTION

The cottage is situated close to the historical centre of Pienza, the Renaissance masterpiece, one of the most known and appeciated towns in the heart of Tuscany.
The historical centre can be reached in a short walk along a pedestrial route overlooking the Natural Park of Val d'Orcia, an enchanted area scattered with churches, medieval towers and castles.
The walk will be an unforgettable moment for its particular charm and relaxing athmosphere..
The cottage has been recently restored and is surrounded by a large garden where you can sit on benches in the shadow of pine trees or under the flowery pergola. There is a parking place and a tennis court is only a few metres away The cottage is provided with large double or triple bedded rooms with tv and a large bathroom each.Every bedroom is different from the other in furniture and colour which fit with the decorations on the ceiling and the walls, the matching linen and carpet and the adjacient bathroom.The furnishing are refined and valuable. It is also available a flat with kitchen, double bedded room and bathroom.
ARCHITECTURE, ART

NEARBY
DINING & ENTERTAINMENT

NEARBY