> Home > Where to stay > Residences
SARNA RESIDENCE
San Quirico d'Orcia
RESIDENCES 3 STARS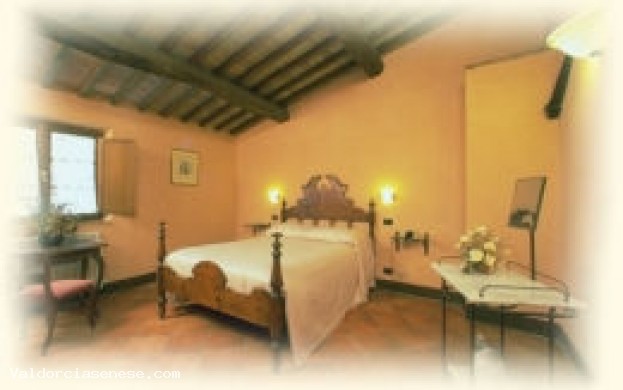 * Required field
DO YOU WANT MORE INFORMATION?

Call our Call Center at
Tel. +39 0577 898307 - Fax +39 0577 898307

Website
www.sarnaresidence.it
SERVICES
ACCETTAZIONE ANIMALI DOMESTICI
GIOCHI PER BAMBINI
PISCINA SCOPERTA
SERVIZIO FAX
TV SATELLITARE
RISCALDAMENTO INVERNALE
ASCIUGA CAPELLI
PARCO O GIARDINO
PARCHEGGIO RISERVATO
STRUCTURE DESCRIPTION

On the first floor in addition to a sitting room with a large Tuscan fireplace, there is also a bathroom and a room with a card table. Three apartments have been created, one of which four people (two rooms with double bed, bathroom with shower and in the sitting room a double sofa bed); and two apartments for three people (one room with double bed, bathroom with shower and an armchair which converts into a bed).
All of the apartments have use of a kitchen, telephone and satellite TV.
On the ground floor there are five apartments of which three (two room) and two (one room), the latter created from the old stall has a ceiling with cross bars.

All'On the outside of the residence, despite being 800 meters from the historical center and 100 meters from the supermarket, the "Taste of Tranquility" is ensured by the presence of a 5,000 square meter park available to guests, with an uncovered parking lot, gazebo with picnic tables for eating or relaxing in the shade, and a private pool (6 x 13) with lounge and deck chairs.
You can also find an old working oven and a laundry room for use by all guests.


In front of the residence there is an original vintage well with travertine and bricks. Each apartment on the ground floor has tables outside the entrance for eating al fresco.

From May 2001 there will also be a reading room, a gym with Technogym equipment, hydromassage shower and a heated outdoor hydromassage bathtub.




ARCHITECTURE, ART

NEARBY
DINING & ENTERTAINMENT

NEARBY