> Home > Where to stay > Bed & Breakfast
LOCANDA SAN BUONAVENTURA
San Quirico d'Orcia
BED & BREAKFAST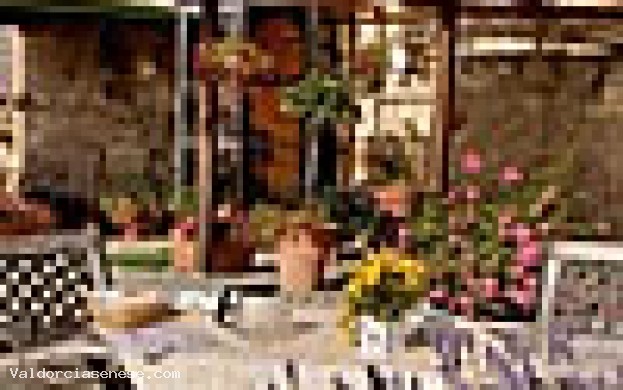 * Required field
DO YOU WANT MORE INFORMATION?

Call our Call Center at
Tel. +39 0577 887508 - Fax +39 0577 887559

Website
www.termedibagnovignoni.com
SERVICES
ACCESSIBILITA PORTATORI HANDICAP
ACCETTAZIONE ANIMALI DOMESTICI
ARIA CONDIZIONATA
TV SATELLITARE
RISCALDAMENTO INVERNALE
PARCHEGGIO RISERVATO
STRUCTURE DESCRIPTION

We opened our B and B in 2001, restructuring our 200 year-old country house which stands amongst the soft hills in the river Orcia Valley, a UNESCO site since 2004.

Our hospitality offers 4 double rooms with private bathrooms and 4 suites (sittingroom, bedroom and bathroom) which may make into triples or quadruples to accomodate a small family.

We finished restructuring the Lodge next door to our house in 2006, it can accomodate up to 7 people having two double rooms, one triple room, three bathrooms and a large lounge with stone fireplace, Sky Sat TV and DVD. This is a perfect accomodation for a single family unit or three couples that may enjoy the privacy of their own independent space.

The house is surrounded by a spacious open garden in which we have put a large BBQ, particularly enjoyable during the summer evenings.


ARCHITECTURE, ART

NEARBY
DINING & ENTERTAINMENT

NEARBY